Ummm this was Amazing.
I guess anything involving heavy cream, butter, and pasta should be....
Anyways - I just bought fresh cremini mushrooms, I did not have time to look for dried mushrooms - no idea where to look, if I'd find them or how much they would cost......
I accidentally bought scallions instead of shallots.....
So I just went for it anyway - adding more butter and skipping the steps with the soaking and using that water since my mushrooms weren't dried.....
It was easy even doing it my own way with different mushrooms and onions and it was DELISH. Definitely try it - like the recipe or in your own way. Also think you should add shredded beef or chicken if you want. A perfect fall meal - enjoy!
Rigatoni Morel
Makes 4 servings
1.75 oz. dried morels or a mixture of dried mushrooms
1 large shallot, diced
3½ tbsp. butter
1 cup white wine
2 cups heavy cream
1 lb. rigatoni
Salt
Pepper
1.
In a bowl, soak mushrooms in enough warm water to cover for at least 1 hour. Drain mushrooms, reserving soaking water.
2.
In a large skillet or sauté pan, heat butter over medium-high heat and sauté mushrooms and shallots until liquid evaporates, about 3 minutes. Add white wine and cook until wine evaporates, 5 to 6 minutes. Add soaking water and cook until water evaporates, about 8 minutes. Lower heat to medium. Pour in cream and cook until sauce has thickened and is light brown in color, about 15 minutes. Season with salt and pepper to taste.
3.
Meanwhile, prepare rigatoni according to package directions. Drain and pour into a serving bowl. Mix in sauce and serve.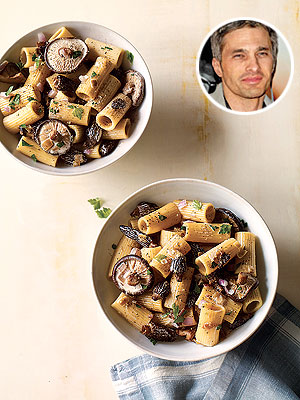 Recipe & photo from here